Qualitative decentralised ventilation solutions
Currently, there is an active improvement of energy efficiency in residential buildings. After renovation and thermal insulation, buildings become hermetically sealed and air exchange stop, consequence of this is stale air, high humidity and CO2 level, fungus appearance. The only solution for this is to create forced air exchange. Mostly for apartments, it's not possible to establish a centralised ventilation system, therefore we offer decentralised ventilation solution which is designed for every type room.
What is decentralised ventilation?
Decentralised ventilation key principle is to ventilate each room separately by providing fresh air and removing contaminated air through an exterior wall. Depends on a centralised system which supplied clean air through air wire system, decentralised ventilation is simpler because you need only make one or a couple holes in the wall. Ventilation equipment is more compact and is mounted on the same wall of the hole. The main advantages are simple installation and speed. It is applied if the premises have already completed repairs because you do not need to carry out the reconstruction of the wall and decorative repairs.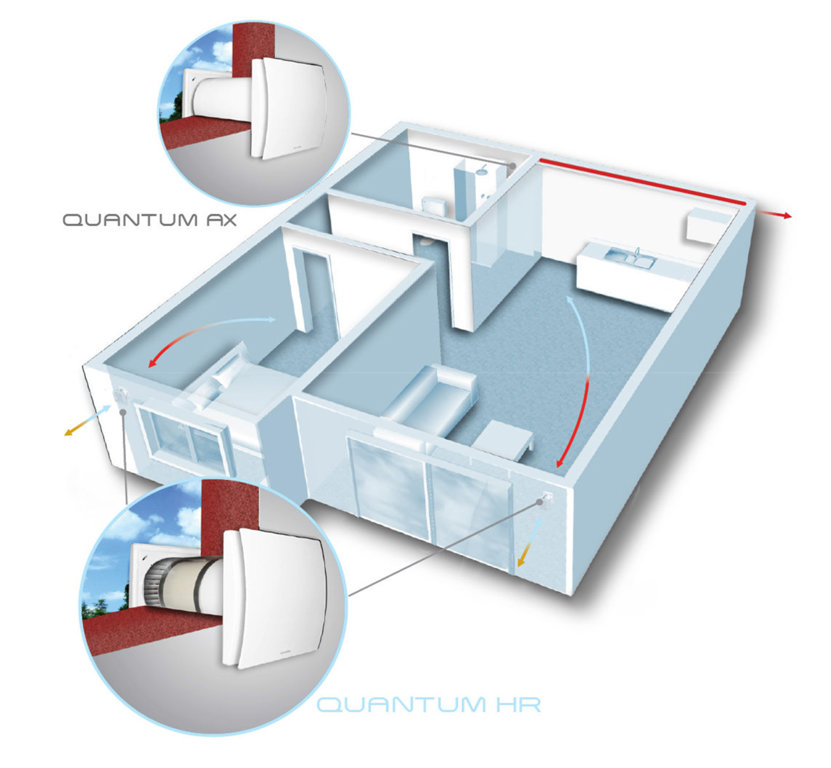 Very low energy consumption decentralised ventilation device with built-in air flow and heat exchanger sizes:
Ø100mm and Ø150mm. Intended for installation in living rooms and bedrooms. Customer benefits:
This solution not only increase the added value of house but also reduces building operating cost

Always fresh air in the building which has hermetic structure
Lower heating bills
Low equipment maintenance costs
Zero energy consumption, compared to the classic mechanical ventilation